Grace Giovannetti was born in NYC to Italian immigrants.  She grew up in a place and time where her Italian culture and heritage were part of her daily life.  Grace learned the art of good food and fashion from her parents Carmela and Giacomo who made all her clothes and bottled fresh tomato sauces they ate together with every meal.  These traditions were naturally translated as she began mapping out her future.  Her first decision was to attend the Fashion Institute of Technology (F.I.T.) in NYC.  Her education took her studies abroad as a student to Rome, Italy where she traveled throughout Italy reuniting with her European family and connecting with her roots. This was the beginning of her love affair with being Italian American that molded her future careers. Upon graduating Grace moved to Milan for her first job at the prestigious Giorgio Armani.  From that point on she grew from RTW (Ready to Wear) into the luxury watch and the jewelry world consulting at Gucci and most recently the Brazilian international jewelry house of H. Stern.
Grace currently lives in Redondo Beach, CA with her husband Lou and two young boys Lucio and Santino.  Together with the love of her life and true partner she has united her passion for Italian food, wine and luxury.  At the start of 2016, Lou and Grace celebrated the official launch of PRIMO an authentic Italian restaurant where her families heritage shines through in the food and family photo's that decorate the space. The menu reflects recipes from her amazing mother, as well as using Non GMO, locally grown ingredients for the health conscious Californian.  The space was a new palette for Grace as she cultivated the interior design, channeling her love and eye for fashion.  Her choice in vibrant colors and rich textures, warm woods, sensual fabrics, artful marble and tile accents and bespoke details entertain the eye and imagination.
Today Grace is a Certified Sommelier and Italian wine specialist. She continues studying with Master Sommelier, Peter Neptune at the Wine and Spirit Education Trust (WSET) where she is tasting, growing and loving cultivating her passion to elevate herself as a true wine expert/sommelier.  As she continues to expand her knowledge of the great wines of the world she will continue to curate the wine list at Primo and share her love and knowledge with you.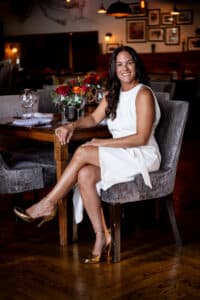 This lifestyle blog/vlog is a vessel for her to reflect on the things she is grateful for and to share, inspire and connect with others who strive to be happy, healthy and live life to the fullest.
La Dolce Vita!