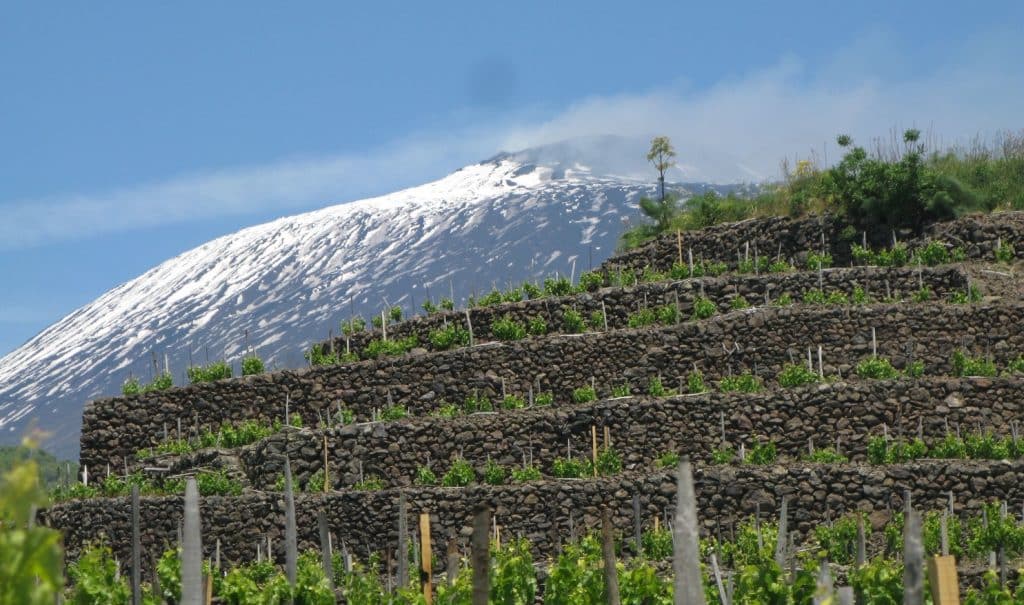 Sicily is the largest Italian island with some of the most beautiful beaches, diverse culture and the gift that keeps giving, the largest, tallest, and most active volcano in Europe – Mount Etna.
Often when asked about volcanoes in Italy the obvious volcano that comes to mind is Mount Vesuvius, in Naples with its deep history and ruins that millions visit year after year. But when the discussion turns to wine and its history Mount Etna is the place to be. It is located on the beautiful northeastern coast of the island in the city of Catania. With its spectacular frequent eruptions over the years dating back a millennia to the most recent on March twelfth of this year this volcano continues to foster vineyards with the true gifts for growing ripe, complex grapes on vines that go back eighty to one hundred years. Etna is home to a wine producing region that stretches from a range of five hundred to four thousand feet above sea level. The topography of the volcano combined with the altitude creates a spectrum of what are called mesoclimates that specific grapes thrive in. Mount Etna truly is an idyllic environment for the grapes, but as extreme as viticulture gets. The sloped volcanic vineyards require timeless specific personal touches, from vineyard to vineyard that include specific pruning and hand harvesting in order to realize the full capability of the diverse soil, varietals and viticulture.
The Power of Terroir (THE LAND)
What makes the wines of Etna so special? While A combination of factors always give a wine region its unique abilities, here it's THE LAND, or terroir, fed by Etna's potent volcano
and the unspoiled historical indigenous varietals and of course the vines. Etnas soils consist of a mixture of sandy pumice and basalt pebbles which makes them fast draining. This draining effect creates a deficit when it comes to the nutrients delivered to the vine. The secret is the soils mineral capacity. These minerals provide a special healthy strength to the vineyards in the region. This mineral rich cocktail has kept Etna protected from Phylloxera. This insect was responsible for spreading disease throughout most of Europe's vineyards in the nineteenth century, leading to in some cases complete devastation of entire regions. Etnas gift of the resistant mineral rich sandy soil is the reason the ancient indigenous varietals that have been in existence in this area since the 8th century B.C. continue to deliver wine lovers with the regions special varietals and abundancy that continues to thrive today.
While the soil lays its foundation, Etna's location and altitude offer beautiful slope side vineyards which soak up the sun needed in this cooler environment. Mount Etna also sees double the rainfall than the rest of Sicily. The high-altitude sites provide a high diurnal range (the difference between day and night temperature) which allows the grapes to retain acidity as well as more hang time on the vine allowing grapes to ripen and produce wonderfully balanced wines.
The Mount Etna Classification And Dedication To Sustainability

Mount Etna wines are part of the D.O.C. (denominazione di origine controllata) system which not only specifies the production area and methods for each wine, but it guarantees the quality and standard which have to pass a government taste test. Etna Reds are often compared to Burgundy in France and share the same capacity for aging. In Italy, aside from Piedmont this vineyard area is the only other DOC with distinct Crus (single vineyard area). In Etna these regions are known as 'contrade', the wine zone with which the concept of terroir is most associated with. The biodiversity and complexity of the land and the wines it produces led to the creation of SoStain, the sustainability program that brought together a group of like-minded Sicilian producers who are dedicated to enhancing and enriching everything that lives in the production system. Needless to say, it would be hard to find a wine from Etna that was not sustainable, organic, and or biodynamic.
The Wine Grapes Of Mount Etna
The wines of Mount Etna are primarily dry red and white wines but can include rosatos (rosé) wines.
Nerello Mascalese the main aromatic grape that is used in most Etna Rosso blends. Etna Rosso DOC wines must have at least 80% Nerello Mascalese. This grape variety is thick skinned and late ripening and thrives in cooler climates. The wines are more tannic but still retains its acidity. Wines made from Nerello Mascalese have a distinct aroma and flavor that reflects its surroundings. Fresh red fruit, spice notes, herbal sometimes balsamic or menthol. They are usually pale garnet in color with medium body. These wines have the ability drink to now or go to the cellar for aging 10 to 20 years.
Nerello Cappucio is Nerello Mascalese most common blending partner for Etna Rosso's aa well as Etna Rosato. This grape adds color and fruit to blends. While this grape is typically used for 100% Nerello Cappucio wines there are one or two winemakers who have. This grape is ruby red in color with notes of red fruits and flowers with a hint of spice. This grape tends to be more tannic than its counterpart. The blend produces a very balanced Rosso.
Carricante is grown at high altitudes compared to other grapes in Mount Etna. Vines can be found growing between 900 to 1100 meters above sea level. This wine can be blended or produce a varietal wine. The name Carricante comes from the Italian word caricare (which means to load), in reference to this high yielding grape. Wines made from this grape are fresh with high acidity, straw yellow in color and lightly fragrant. These wines are also produced to have a creamier mouthfeel with the introduction of malolactic fermentation.
Catarrato is the main grape in Sicily but only plays a minor role in Mount Etna DOC as a blending grape found in Etna Bianco wines.
Depending on the winery they can produce austere structured wines or very ripe and fruit forward wines. Although the area produces both red and white wines red is king. The Reds of Etna are characterized as having complex aromas, sour red cherry, violet, salty, savory, smoky, herbal, earth flavors and more. The whites are usually dry, fresh and balanced with flinty, mineral qualities. Mount Etna wines are unique and a volcanic gift to be enjoyed.
Sicily is truly a destination steeped in world history, the steppingstone from Africa into Italy and the rest of Europe is still to this day a hidden gem. Some say, it is the land that time forgot, as its people and traditions remain vibrant in our ever-changing world. So too are the wines of Sicily. Strong, confident varietals used to produce some of the worlds most drinkable, consumer friendly "juice" around. Exploring Sicilian wines and the wines of the Mount Etna region will certainly add a historical vibrancy and unique taste profile to your wine tasting experience. Sicily and Mount Etna's DOC has always stood the test of time, and it is time for you to discover that lineage.
Happy Tasting!