How many times in life does the hype add up to the actual experience? Well…A good friend from my Gucci days said, "You need to come to Beverly Hills and meet ALI!!!" " Ali?" I said. Who the hell is Ali, and why do I "need" to meet him? She began to tell me the story, of Ali Soltani, the creator of Ritmo Mundo watches and how he recently signed a licensing deal for Izod watches. I thought, Awesome!!! Who doesn't like a trip to Beverly Hills? I used to sell watches, I love watches and everything in my life right now is about my blog and bringing new interesting stories and products to my readers, so I headed to Beverly Hills to meet "Ali."
OMG, what a beautiful day it was!!! Southern Cal in all its finest…Sun, cool breeze, and WALKING!!! One of the nicest pleasures I miss from not living in Manhattan anymore is walking. Beverly Hills provides some nice little jaunts. Nothing like a morning, strolling through the village, but niiice nonetheless. I walked up the cobblestone street at Two Rodeo Drive (which has a very European flair lined with high end stores, salons and restaurants) to Orgell's (a well known jewelry store with luxury goods), which houses the RITMO MUNDO headquarters.  Once I got there I was escorted to an elevator that took me down, down, and down, to Ali's lair, I mean office 🙂   Already, this man working out of this covert Beverly Hills establishment intrigued me. The doors opened and there he was…  Ali Soltani, a younger man than I expected with dark eyes and salt and pepper hair. Immediately we hit it off and he began to take me on a tour of his world of watches.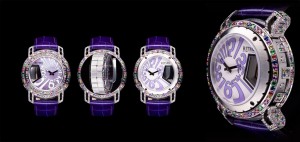 Soltani began 9 years ago and when he launched Ritmo.  I remember the collection as the watches to the stars.  The timepieces were big, bold with bling and definite style.  I asked Ali, "What was/is your inspiration for Ritmo?"  Ali took me on the journey of the ever-changing world of not only timepieces, but also world affairs and economics.  "Initially I was inspired by other brands. But since then, Ritmo has developed original collections that show the range of the brand."  As he told me his story I quickly became impressed with all of his creations and his business outlook. What styles do you consider your "internalized inspirations"?
The Persepolis is the first 3 time zone watch from 4 years with the orbital case that turns and it is definitely "different" than any watch. In the past year, we have introduced the Puzzle Watch, which is the first watch where the purpose is to "hide" time.  To see the time, the user either shifts the pieces to the puzzle or slides the case to see the "time".  Other alternative inspired watches are on the horizon as Ritmo turns 10 years old
If you are into IndyCar racing you should check out Ritmo Mundo's limited edition of 100 pieces of the Helio Castroneves timepiece, to commemorate his victory of the Indianapolis 500 for a record time. You can view these timepieces at www.ritmomundo.com and www.indycar.com.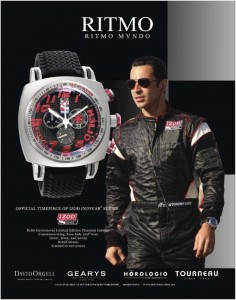 What a great time I had with Ali in Beverly Hills, I headed out of the lair, grabbed a slice at Mulberry Street Pizza and was on my way back to the beach. On my drive back to the home, I reflected some more on the time I spent with Ali Soltani a true businessman.  I thought how striking is how he juggles what it takes to not only being the "hot" watch of the moment, but how to continue to grow a strong business. I like that!!! Being the consummate businessman, Ali inspired me, and never allowing a point of sale to go unnoticed, Ali offered me the opportunity for my first GG DEAL for all of you.
You can now purchase Ali's Carnival watch right here at GG in the House! His newest timepiece, The Carnival collection is sporty and sexy. The bold case is water resistant up to 30 meters and a matching silicon strap is standard. Retail Price: $500.  GG Price: $450 (contact me directly to purchase at grace@gginthehouse.com).   This white watch is a summer must have. Soooo… Invest in a fine quality Swiss Made timepiece that has quality and style. Be the first…
Ali, Thank you so much for your time, expertise, and friendship.
What Time is it People???? IT'S GG Time…
Love to you all,
GG